Combining the fire protection block and fire protection foam: PYROPLUG® Block and PYROSIT® NG appear in a new generation
Quick and easy cable insulation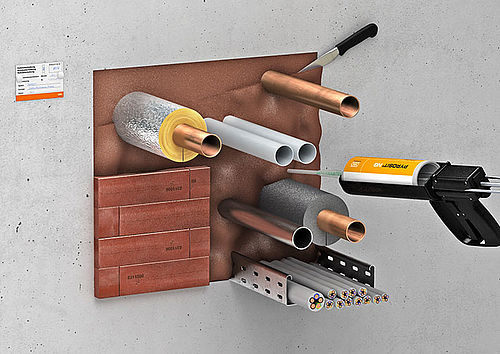 Fire protection blocks andfire protection foam allow the safe closure of openings for cables and pipes in walls and ceilings classified as fire protection. OBO Bettermann is now bringing a new generation of combination products onto the market: With PYROPLUG® Block and the fire protection foam PYROSIT® NG, installation engineers on the construction site now always have a strong team of products with them for cable and combination insulation. The application has become even simpler and faster
PYROPLUG® Block fire protection block
The new PYROPLUG® Block has gained in stature. Through the expanded effective surface, installation engineers now need fewer items for each opening. Depending on the fire resistance class, the block may be installed lengthwise or crosswise. Single-sided sealing is sufficient on the ceiling. Thanks to its soft consistency, installation at a later date is no problem. In the case of core drill holes, the PYROPLUG® Peg plugs provide secure insulation.
PYROSIT® NG fire protection foam
PYROSIT® NG makes the fire protection system perfect. The two-component foam can be distributed precisely using the cartridge pistol. A new feature from OBO is a tempering box for the foam, which ensures an optimum cartridge temperature. If there is a fire, the foam, blocks and plug expand, forming an insulating layer, which prevents the spread of fire.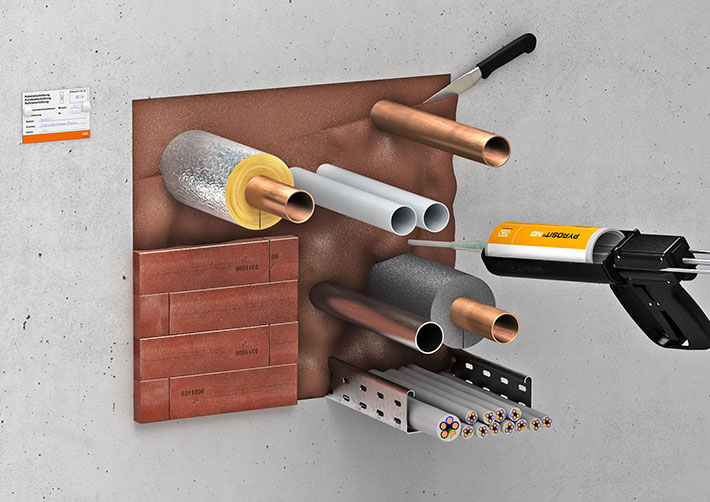 Tested quality for your safety
As systems, the products have been confirmed as fulfilling the insulation tests according to EN 1366-3 and possess the European Technical Approvals (ETA). In addition, the OBO blocks and plugs continue to fulfil the requirements of the national approvals according to DIN 4102-9.
The dimensions of the new PYROPLUG® Block are 200 x 144 x 60 mm. For this, OBO has also reduced the size of the packaging units, so that demand can be met in a more targeted manner. The system is used in all types of buildings, in particular in industrial and special buildings, in hospitals, meeting places and schools.
PYROPLUG® Block mounting video
Additional information