Arrestor series V20/V50
OBO surge protection: A new appearance. More performance.
The new arrestor series of the V50 combination and the V20 surge arrestors. They fit perfectly into OBO's comprehensive protection system against lightning and surge voltage. Modular, plug-in arrestor with dynamic cut-off unit and visual status display. From now, OBO products for lightning and surge protection are very easy to identify. The brand logo's new design for lightning and surge protection has a high recognition value in every installation.
Range of variants through modular structure

Visual status display
Double PE connection terminal
Remote signalling variants,
the FS variants possess a potential-free changeover contact.
V20 series surge arrestor, type 2
Surge protection according to VDE 0100-443 (IEC 60364-4-44)
Arresting capacity up to 40 kA (8/20) per pole through high-performance varistors,
Application: Equipotential bonding in main and subdistributors.
Available voltage variants:
(highest continuous voltage, AC)
75 V
150 V
280 V
320 V
385 V
440 V
550 V
to 1,000 V
V50 series lightning current combination arrestor, type 1+2
Lightning protection equipotential bonding according to VDE 0185-305 (IEC 62305),
Lightning current discharge capacity 12.5 kA (10/350) per pole and up to 50 kA (10/350) in total,
Application: Lightning protection equipotential bonding for buildings of classes III and IV,
up to 160 AgL, can be used without a back-up fuse.
Available voltage variants: 
(highest continuous voltage, AC)
Intelligent construction, lots of practical details.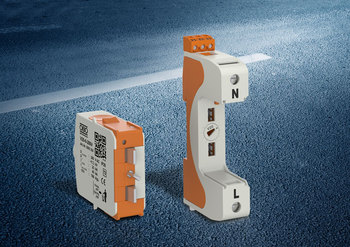 The benefits of the new arrestor series lay in its countless, well thought-out components. They can be installed without any problems with just a few actions. The high-quality material and the intelligent construction allow their use, even with high mechanical loads.
Safe handling Reliable, vibration-free locking through acoustic feedback (CLICK), comfortable handling through ergonomic handle surfaces
Incorrect insertion protection For safe insertion of the covers
Optimised rating plate QR code for full traceability of each arrestor cover with web address stored for additional user information.
Soft release contacts Newly developed soft-release contacts in combination with a locking mechanism protect the covers of the protection elements even under the harshest mechanical strains. The wedge-shaped design of the contacts allows simple attachment of the covers.
Voltage and type coding For unmistakable assignment of the cover and base of the arrestors
High-quality materials The halogen-free and UL-listed plastic material fulfils the newest standards in installation technology.
Product video, arrestor series V20/V50
Additional information
Planning aids and basic knowledge Transient and lightning protection systems
Download, pdf, 8 MB