OBO fire protection competence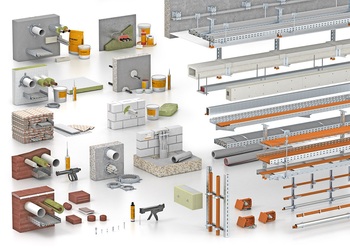 The basis for our comprehensive fire protection competence is a unique, very diverse product range. It makes us one of the few providers with a product range which covers all three protection aims of construction fire protection:
1. Limiting the spread of the fire,
2. Protect escape and rescue routes,
3. Maintaining the function of important electrical systems.
With OBO systems, planners and operators have the perfect components for the complete fire protection and function maintenance of their building.
First protection aim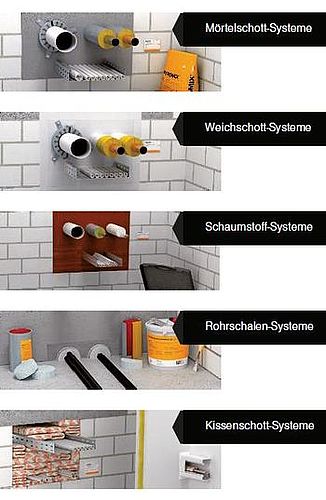 Maintenance of the fire sections
The division of building into fire sections protects unaffected building sections against the spread of fires for specific periods of time. Insulation maintains the fire sections, thus limiting the spread of fire and smoke. These constructive measures protect people and property, allowing fire brigades to prevent the spread of fires to other parts of the building through extinguishing measures.
Function of firewalls
Firewalls should ensure that a fire cannot pass to neighbouring buildings or building sections. This creates so-called fire sections. The construction design of these firewalls (materials, fire resistance classes, stress values) is regulated by the building regulations and standards. Electrical cables and pipes may only be run through walls and ceilings at the ends of rooms when there is a guarantee that they do not present an opportunity for fire and smoke to spread. Insulation systems reliably seal the ceiling and wall penetrations required for installations against fire and smoke.
Second protection aim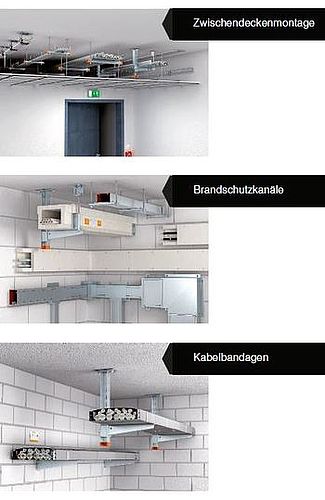 Protection of escape routes
According to the building regulations, there must be routes in buildings, which not only permit access to the building in a horizontal and vertical direction in normal situations, but which also offer the option of rescue in case of fire. It is therefore obligatory to equip buildings with at least one constructive emergency and escape route. Additional emergency and escape routes may also be necessary, depending on the type of building.
These include:
Necessary staircases (vertical access)
Connecting rooms between the necessary stairwells and exits to the outside
Necessary corridors (horizontal access)
There must be a guarantee that, if there is a fire, these routes can be used to leave the building without any risk. In addition to evacuation, the emergency and escape routes also aid the local fire brigades as a point of attack. In the area of emergency and escape routes, an installation may not pose an additional fire load. This requirement can be fulfilled using an appropriate type of installation:
Concealed installation
Installation in fire protection duct systems
Installation above suspended fire protection ceilings
Use of non-combustible materials
Routing of cables with improved behaviour in case of fire
Third protection aim
Function maintenance for electrical systems
If there is a fire, emergency and escape routes must remain usable and important technical equipment, such as emergency lighting, fire alarm systems and smoke extraction systems, continue to
function. Therefore, it is essential that the power supply for these systems is specially protected. In addition, certain technical systems must support the fire brigades in fighting fires for a sufficiently long period of time.
Where is function maintenance required?
Technical equipment with function maintenance is required for the following buildings and areas: Hospitals, hotels and restaurants, tower blocks, meeting places, shops, closed indoor car parks, metro systems, the chemical industry, power stations and tunnels.
This could be because these constructions are regularly frequented by many people. This creates an increased safety risk for gatherings of people. However, with certain systems, property and the environment must also be protected.
Overview of OBO fire protection systems (video)
Additional information