GR-Magic® mesh cable tray
System innovation from OBO: Mesh cable tray with the patented GR-Magic® connection system – rapid mounting and flexibility redefined.
Installation time is becoming ever more important in the decision for or against a product. With the mesh cable tray GR-Magic®, in both the standard design or as a G mesh cable tray, OBO Bettermann offers a true system innovation. Thanks to the patented connection system, developed by OBO, it can be applied and inserted in a matter of seconds.
For a purely straight connection, neither connection components nor installation tools are required. Just connect the two parts and you're done. This means that you do not need to store connection parts and thus save costs. The new GR-Magic® mesh cable tray really speeds up installation and manages this with no loss of stability and load-bearing capacity. Load tests show that GR-Magic® systems can fully match up to traditional screw connections. The electrical properties are also first class: The mechanical and electrical values required by the VDE guideline 0639 and in the new IEC/EN 61537 are achieved easily. The GR-Magic® system can also be fastened on the bracket without screws.
Any shape you want
Mesh trays cannot always be routed lengthways and straight ahead. Depending on the application, it is often necessary to overcome many structural obstacles or to make very unusual changes of direction, both horizontally and vertically. OBO mesh cable trays can be cut to any size using the OBO cutting tool. Here, too, installation is easy and practical: With the GRS quick connector, prepared trays can be mounted at lightning speed and without screws. This way, any unexpected operation can also be carried out quickly and securely at the mounting location.
Function maintenance with GR-Magic®
Besides rapid mounting and the range of applications, the OBO innovation offers another key benefit: The GR-Magic® mesh cable tray system has proven its stability in an impressive manner in fire testing according to DIN 4102 Part 12. This installation design was put through its paces with a cable load of 15 kg/m and a support distance of 1.5 m. With the GR-Magic®, the routing variants for function maintenance have increased yet further. This is a system, which is well thought-out, rapid and safe for daily installation work.
G mesh cable tray Magic – the system for direct wall and ceiling mounting
Optimum room usage
Even if space is tight: The versatile mesh cable tray can be mounted almost anywhere. The G-GRM can be attached directly to walls and ceilings in almost any position. It can thus offer optimum space exploitation in false ceilings, server rooms and office buildings.
Versatile material
Dry rooms, wet rooms, outdoor areas, the food industry or tunnel construction – the G mesh cable tray Magic has the right surface for any area. The product range runs from electrogalvanised and hot-dip galvanised right through to stainless steel variants. Flexible solutions for all kinds of applications.
C mesh cable tray systems – maximum load capacity and versatility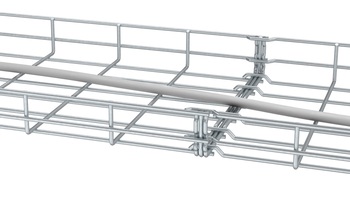 The C mesh cable tray system from OBO Bettermann can fulfil the highest requirements for load capacities and versatility. The C shape allows support widths of up to three metres. This system, with its 50 mm side height, together with the optimised accessories such as clamping pieces, Quick connectors, barrier strips, suspension profiles, mounting brackets, etc. is an ideal addition to the overall mesh cable tray system. It is used both in industry and in all other areas of professional electrical installations. 
Magic down to the last detail
The practicality of a system is not just dependent on the basic properties of the mesh cable trays. It is the countless intelligent details that make mounting a very effective matter. Many snap-on components continue the basic Magic principle down to the finest detail. In other mounting steps, particularly simple processing was of key importance.
Components such as bends, side holders, mounting plates, quick connectors and clamping pieces complete the easy-to-mount system. The cover is fastened by simply attaching the type DKU cover clamp to the transverse wire of the mesh cable tray.
With just a few actions, the OBO mesh cable trays can also be adapted to supports with over and under pieces. Thanks to the construction of the mesh cable trays, any change in direction  is possible, depending on the mounting situation. Standard changes in direction of 45° or 90° can be created with a prefabricated fitting or using a bespoke fitting for self-installation, thus providing the desired result.
GR Magic Mesh Cable Tray product video
Additional information