Service poles for industrial applications
Ready to go. The ISS base profile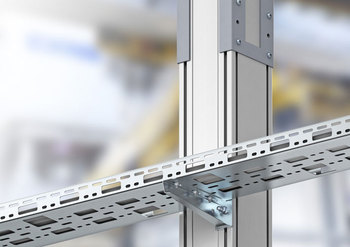 Our industrial service poles bundle power, data and compressed air connections in a compact and sturdy manner. This means that, for instance, the adjustment of production processes becomes very quick and easy when locations are changed. Thanks to the modular set-up, it is easy to equip the service pole according to the new requirements.
Device installation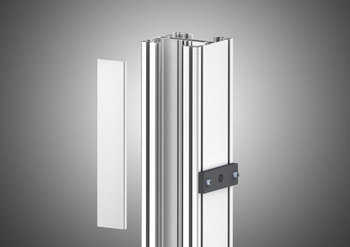 ISS industrial poles can be equipped with practically standard systems. The 76.5 mm-wide system opening is ready for the installation of:
Switching and connection devices
CEE connection units 16A/32 A
Data technology
Series-mounted devices
Flexible use
In order to be able to install cables and wires of different voltage levels, it is possible to divide the installation space with a partition.
Channel rail
The channel rail provides the option to attach
Monitors
Keyboards
Reading, transmitting and receiving equipment
Fixed or flexible pipelines for compressed air or gases
Compressed air tap
Tap to take off compressed air from the pole profile. The compressed air tap can be mounted onto the pole profile using slot nuts and fastening screws.
Perfect connection to the building and the electrical infrastructure.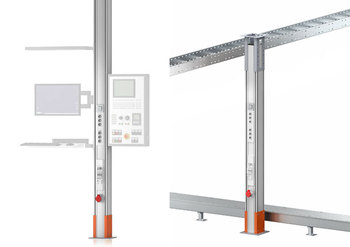 Stand and ceiling fastening
A heavy stand that is fastened to the floor ensures secure mounting. A solid ceiling fastening at the top can easily be adjusted to different heights.
Connection to a walkable cable tray and cable support systems
With our walkable cable tray systems, you can feed power and data into power poles. Using the appropriate brackets, cable ladder and cable tray systems can be attached to the pole easily and firmly.
Additional information