Junction boxes, X series
Extremely high load capacity
The junction boxes of the X series can withstand even the strongest mechanical loads. However, the X series not only stands out because of its robustness but also because of its functional and well thought-out design. The junction boxes of the X series are available in two variants: One with knock-out entries as a junction box and one as a closed empty housing. Various dimensions offer the perfect size for every application.
The X series can fulfil any requirements made of contemporary, practice-orientated connection sockets.

Impact-resistant and robust
The junction boxes and empty housings of the X series with the protection rating of IK09 offer particularly high impact resistance. This is achieved through the use of special plastics based on the use of high-quality polycarbonate. All the boxes of the X series are tested according to DIN EN 60670 Part 1 and 22. The necessary tightness is guaranteed by the protection rating IP67.
Tested in practice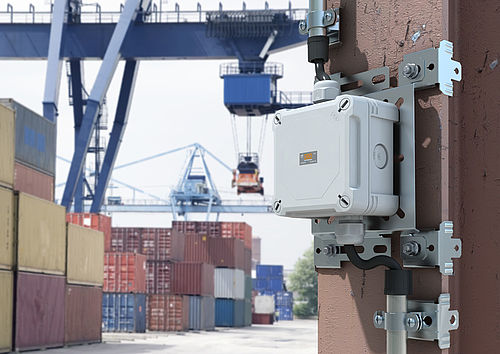 The junction boxes have been tested in practical applications and have certainly not been found wanting: As such, the X series offers high wiring space and simple and particularly flexible mounting and fastening that are particularly cherished by users. The junction boxes can be mounted using internal, external or corner fastenings and adapted flexibly to the appropriate installation. At the same time, the junction boxes and empty housings of the X series are suitable for use in interior and exterior areas.
Various equipment variants, wide range of accessories
The X series is available in different equipment versions. Completely pre-installed versions, for example with main cable junction terminal, cable glands, screwless terminals and hat rails, are available. Screw covers, plug-in seals and external fastening elements are contained in the scope of delivery of all the junction boxes. In addition, the X series offers a comprehensive range of accessories.
Proud to be colourful
In any colour variation, the X series is a real eye-catcher. The lids are available in light grey, transparent, black and red. The bases are available in light grey and black. Different constellations mean that it is easy to tell different circuits apart.

Junction box colour variants

Junction box sets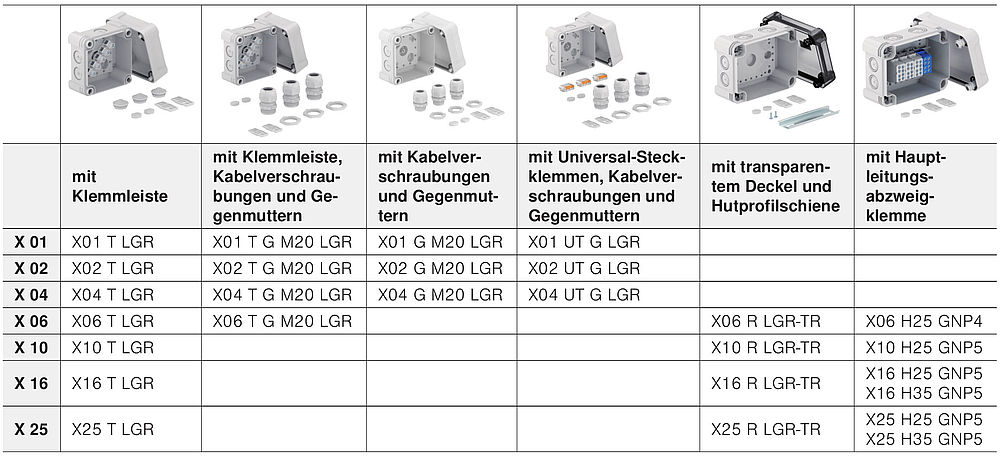 Empty housing colour variants and sets

Product video junction boxes X-series