Universal counter-trough
Suitable for all clamp clips, fits every rail and can be combined into a double trough.
The plastic counter-trough unifies all the functions of previous counter-troughs in a single item.
Universal application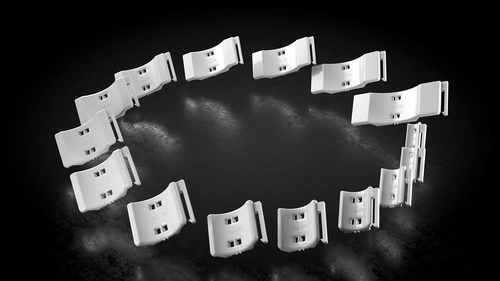 Depending on the application, clamp clips differ not only in material, but also in their base shape and size. However, no matter which clamp clip is used, the universal counter-trough is the right counterpart. It is suitable for all clamp clips, as well as mounting, anchor and profile rails from the OBO portfolio and is available with 15 variants for every slot width.
Thus, instead of a lot of counter-troughs, only one type need be kept, in order to cover all the applications with the different base shapes and clamping dimensions. The appropriate clamping range is always stated on the counter-troughs, meaning that it is possible to check at a glance whether the article matches the application.
Simple mounting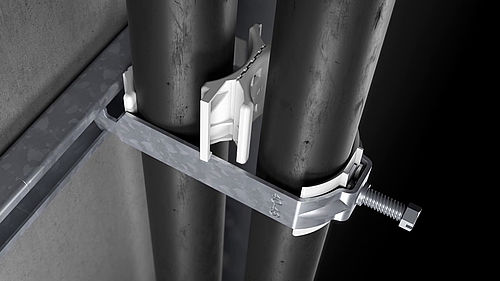 The universal counter-trough also offers considerable simplification during the actual installation. This is because the counter-trough is only inserted from above just before the clamp clip is tightened. This means that more space is available when installing the clamp clip ‒ this simplifies installation in areas that are difficult to access. The counter-trough also makes uncomplicated retroinstallation possible, as the clamp clip does not need to be dismantled totally.
Stability and sturdiness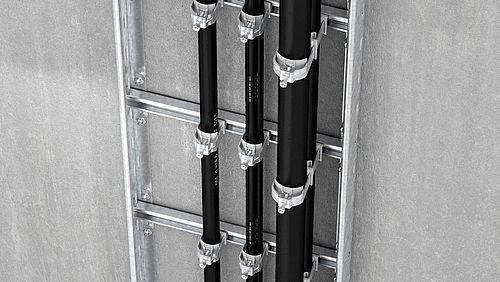 The universal counter-trough offers optimum support on the rail at any time and is, thanks to its weatherproof material, also suitable for use in outdoor areas. The locking hook at the side secures the position of the universal counter-trough in the clamp clip. This therefore prevents unintentional release and loss. This property offers the option of using the universal counter-trough in special applications, for example in wind power systems, in which the counter-troughs are used at great heights.
Can be combined to double trough
A patented, intelligent contour on the rear side allows the connection of two identical counter-troughs to a double trough. Two arrows on the rear and underside of the universal counter-troughs help to combine them correctly. Universal counter-troughs combined into a double trough can be released at any time without tools and used individually or again as a double trough.
The advantages of the universal counter trough at a glance:
Suitable for all clamp clips and rails
Can be combined to double trough
Simple installation and retroinstallation
Optimum support on the rail
Weatherproof
Product animation, universal counter-trough
Additional information