The cable and pipe clips of the Quick series
Arrangeable cable and pipe clips – available with infinitely adjustable clamping range or safety lock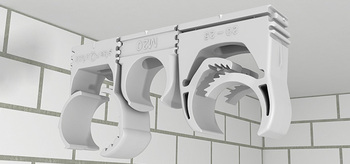 The OBO Quick series offers three different types of halogen-free pressure and pipe clips for time-saving, securing fastening of cables and electrical installation pipes.
Benefit from short mounting times when fastening installations on walls and ceilings, as well as both indoors and outdoors.
All the clip types and sizes of the OBO Quick series can be interconnected easily, thanks to the shared arrangement contour. This means you can mount up to three clips with a single drill hole. The patented shape of the arrangement contour permits a particularly high carrying capacity.
Quick clips – easy cable routing with Quick pipe electrical installation pipes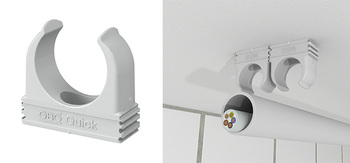 Standard Quick clips offer particularly high pipe extraction values of up to 230 N. The clamp clips are available for cable diameters between 15.5–63 mm as well as for all metric pipe sizes from M16 to M63. The combination with the unfolding electrical installation pipes of the Quick pipe series allows uncomplicated insertion of cables – even in installations at a later time.
Insertion slopes, specially adapted to the pipe dimensions, simplify the insertion of the pipes in the clips.
Thanks to their special shape, the Quick clips move themselves into the correct position when pipes are inserted – up to a slope of 15°.
The slot fastening with centring aid means that it is particularly easy to draw on drill holes.
Multi-Quick clips – particularly versatile through infinitely adjustable clamping area
Multi-Quick clips are, thanks to their infinitely adjustable clamping area, very versatile and can cover the entire clamping area between 15‒37 mm with just four sizes. As variants for metric pipes, Multi-Quick clips are particularly mounting-friendly and are suitable for two pipe sizes each in the M16 to M32 range. This simplifies storage and saves space in the mounting case.
The infinitely adjustable clamping range of the Multi-Quick clips guarantees the secure hold of installations of different diameters.
The integrated groove allows the pushing-on of Multi-Quick clips in profile rails with 11 mm slot width, e.g. in rails of type 2060 or 2061.
Also suitable for outdoor use.
starQuick clips – with a safety lock and locking positions for two pipe diameters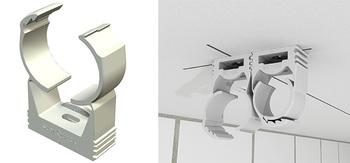 starQuick clips with the patented safety lock can fasten cables and pipes with diameters between 10‒65 mm safely to ceilings and walls. The clips are UV and weather-resistant and are particularly suited to use in external areas.
The patent safety lock fastens installations reliably and can, if necessary, be reopened.
Two locking positions allow the insertion of different cable and pipe diameters in each clip.
Tough customers: starQuick clips are UV and weather-resistant and are particularly suited to use in external areas.
Quick series product video
Additional information