Separable cable gland
For pre-terminated cables and simple maintenance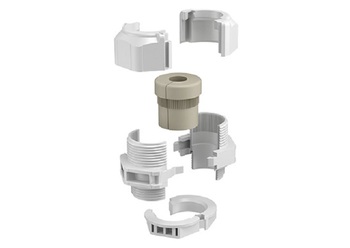 The separable cable gland allows easy and quick installation, for example, of pre-terminated cables with connectors. In an existing installation, a missing or defective cable gland can be replaced or supplemented without dismantling and interruption of the contacting.
For repair, retroinstallation, pre-terminated cables and simple maintenance;
Available in three sizes: M20, M25, M32;
High impermeability IP67;
Spreading pliers for ideal opening the sealing inserts. With this tool, inserting the individual cables is easy and quick.