LKM cable trunking – reliable protection for cables and lines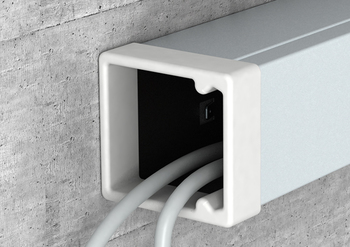 LKM metal cable trunking has proven itself as a stable system in harsh environments. The complete system allows simple installation at a later date and offers reliable protection for all cables, such as those used in machines and systems, against mechanical loads and soiling. As a result, cables and lines are routed not just safely but also in an attractive manner and in line with regulations or based on building usage.
Ten different trunking sizes are available in the LKM system. The two LKM 20030 and LKM 60100 types have also been tested as a cable-specific routing type for function maintenance according to DIN 4102 Part 12. All the trunking is available with the surfaces FS (strip galvanised) and FSK (strip galvanised and with a pure white plastic coating). The system is supplemented by the appropriate fittings and system components, such as edge protection rings, end pieces, fittings, joint connectors and duct clamps. provides an overview of all cable trunking and accessories.
Protection and function maintenance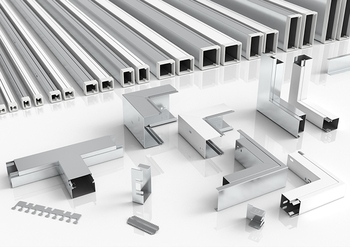 LKM cable trunking has proven itself both in terms of the routing and protection of cables and lines as well as for the purposes of function maintenance. Cable routing with LKM metal cable trunking is approved as a cable-specific routing type for the function maintenance classes E30 to E90 according to DIN 4102 Part 12. The LKM20030 trunking has been specially tested for fire and telecommunications cables. The LKM60100 trunking has been tested for power, fire and telecommunications cables.
Practical installation
LKM cable trunking is also suitable for horizontal wall and ceiling mounting. With type LKM60100 trunking, a retaining clamp can prevent the cables from falling out. Once the cable installation has been completed, the trunking cover is locked onto the trunking base with ultimate ease.
Thought out down to the last detail
A whole host of clever mounting details are what make LKM cable trunking an exceptionally reliable partner when it comes to cable routing:
The partition is inserted into the straps located on the base, guaranteeing equipotential bonding without any additional aids.
The trunking clamp is placed on the loop perforation in the base and then locked into the cover contour.
After installing the LKM trunking, the joint connector is locked into the parts to be connected from inside, guaranteeing equipotential bonding between these two parts.
The special cover contour guarantees safe equipotential bonding between the cover and the base.
The trunking is earthed using the connection strap located on the base.
The cable bracket is mounted using the trunking fastening screws. The cables can be held using type 555 cable ties.
The edge protection ring is placed on the open ends of the LKM trunking, preventing damage to the cables within.
Additional information