Rational cable tray system Magic® (RKS Magic®)
The best connectable cable trays ...
... that the OBO engineers have ever developed, to save time and simplify work. Thanks to the consistent alignment with the requirements for daily installation work, the RKS Magic®, with its innovative connection system, can offer many practical benefits.
The Magic® cable tray system from OBO Bettermann stands for three basic aspects: Efficiency, stability and safety. Just connect, engage – and you're done. Without screws, connectors or other accessory parts, you can increase your mounting speed noticeably and effectively.
Of course, the RKS-Magic® cable tray range can be combined with countless accessory parts.
Surfaces for any area of application
The RKS Magic® cable tray is available in four different surface and material versions. As a hot-dip galvanised variant (FT, see table), it is designed for industrial environments and can be used in machine and systems construction. By contrast, in the stainless steel version (A2 and A4), it is particularly suited to the foods and chemicals industries. For interior areas without particular requirements, the strip galvanised surface (FS) is ideal.
Thanks to our in-house powder-coating system, anyone wanting something more special can obtain the cable tray in any conceivable RAL colour. You can obtain more detailed information from our !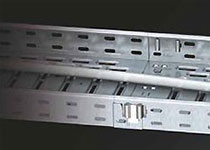 Which variants are available?
Type
Side height in mm
Width in mm
FS
Strip galvanised
FT
Hot-dip galvanised
A2 stainless steel
A4 stainless steel
 
100
150
200
300
400
500
600
 
Efficient cable tray
system Magic®
35
✔
 
✔
✔
 
 
 
✔
 
 
 
60
✔
✔
✔
✔
✔
✔
✔
✔
✔
✔
✔
Tested quality and safety
At OBO Bettermann, safety and quality are paramount for every product. This is why OBO has its own testing laboratory, the BET Test Centre. Here, the maximum load capacity and stability of the RKS Magic® are tested in detail. Just like the cable tray's resistance to corrosion.
However, OBO not only tests internally, but also externally certifies the quality and safety of the RKS Magic®: For example, through the testing certificate of the Underwriters Laboratories (UL).
Mechanical safety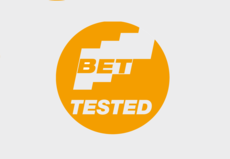 Even with the maximum load, a clean transition is guaranteed at the joints
Secure connection, even in the case of shaking and vibrations
Electrical safety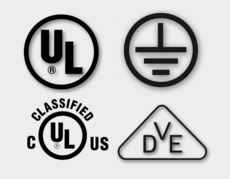 Permanently guaranteed equipotential bonding, without additional components
Tested for electromagnetic compatibility and surge current
VDE-tested according to DIN EN IEC 61537:2007
Safety in the event of fire
MPA maintenance of electrical function-tested according to DIN 4102-12, load capacity to 20 kg/m with a width from 100 mm to 300 mm
No threaded rod lock required for brackets
Technical information
Side heights 35 mm and 60 mm
Widths from 100 mm to 600 mm (depending on system height)
Standard delivery length 3,050 mm allows an actual useable length of 3,000 mm
Available in strip galvanised (FS), hot-dip galvanised (FT), stainless steel A2 and stainless steel A4
In addition, comprehensive system accessories are available, which round off the portfolio (e.g. 90° bend, connector, suspension solutions and much more)