Surge protection in potentially explosive areas of industry
If the risk of explosion is particularly great:
 
Lightning strikes and surge voltages in potentially explosive areas can have devastating consequences if insufficient or unprofessional lightning and surge protection is installed. Any company manufacturing, processing or storing combustible substances must expect the risk of explosions. Professional lightning and surge protection, as is required by, amongst other things, IEC 62305-3 and IED 62305-3 for potentially explosive areas, can be implemented with tested and approved products from OBO Bettermann. In this regard, special products are the EX PAS equipotential busbar, the EX spark gap EX ISG H and special protection devices for data and MCR systems. For external lightning protection, the high-voltage-resistant, insulated isCon® conductor is used
Potentially explosive areas (Ex areas) are all those rooms and areas in which gases, vapours, mists or dusts, which can form potentially explosive mixtures with air, can collect to a hazardous level.

Such areas can be found in, amongst other things, the following systems:
Gas pressure regulation and measurement systems
Valve stations
Fuel depots
Refineries
Production facilities of the chemicals and pharmaceuticals industry
Lightning and surge protection always also means preventive fire protection
Besides a combustible substance and oxygen, an ignition source is required to generate an explosion. With the OBO lightning and surge voltage measures, ignition sources (e.g. electromagnetic waves or lightning strikes) will not even be created or are captured and arrested in a controlled manner.
EX PAS equipotential busbar
Connections of lightning protection systems in potentially explosive areas must be created in such a way that no ignition sparks are created when the lightning current passes through.

The EX PAS equipotential busbar (equipotential busbar for potentially explosive areas) can be used for lightning protection equipotential bonding according to IEC 62305-3 and protective/functional equipotential bonding according to DIN VDE 0100 Part 410/540.

The EX PAS equipotential busbar for potentially explosive areas possesses the following properties: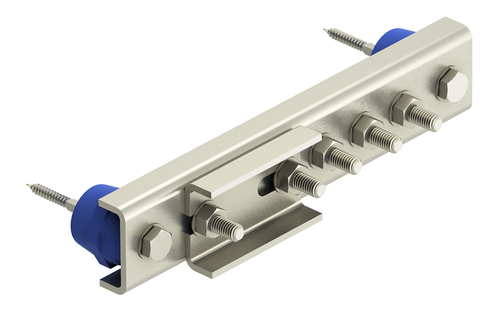 Suitable for all explosion groups and use in Ex zones 1/21 and 2/22
Highest test class H according to IEC 62561-1 for high loads (indoor and outdoor applications)
Made from corrosion-resistant material (stainless steel)
Spark gap EX ISG H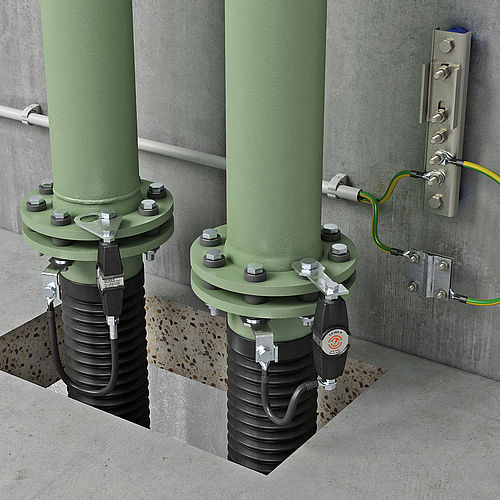 To avoid arcing to insulating pieces in Ex areas, the use of Ex-certified spark gaps is required. The ATEX-/IECEx-certified OBO EX ISG H spark gap insulates the parts of the system against corrosion currents, fulfilling the requirements for the connection of lightning currents in potentially explosive areas according to IEC 62561-3.
Product characteristics of the spark gap EX ISG H:
Chemical resistance
Resistance to oils and extreme temperature variations
UV-stable, weatherproof
Pressure encapsulation "d" for Ex areas: Gas and dust-tight
Resistant to saltwater
Highest testing class H in accordance with IEC 62561-3
Surge protection for data and MCR systems: MDP-EX and FDB
Even without a direct lightning strike, induced voltages can cause damage to electrical devices, systems and components for measurement, control and regulation (MCR) technology and, in the worst case, can lead to an explosion. OBO lightning barriers of type MDP are tested for intrinsic safety (ia) and are independently certified. With a high arresting capacity of 10 kA, they offer optimum protection for measurement and control applications.
External lightning protection with high-voltage-resistant, insulated arrestor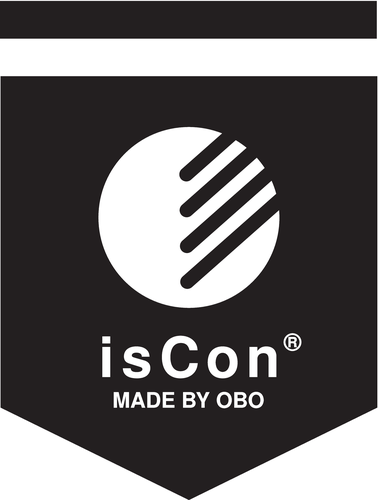 The similarly ATEX-tested OBO isCon® arrester for external lightning protection prevents direct arcing between the arrester and the building to be protected. After first potential connection behind the connection element, the isCon® arrester reflects an equivalent separation distance Se of up to 0.9 metres in the air according to VDE 0185-305-3. This means that installation is possible directly on metallic and electrical structures. The arrester is available in 5 different versions, meaning that the right arresting system is available for each application. You can find more information on the topic of lightning and surge protection in our guide "". In addition, you can find comprehensive declarations pertaining to lightning protection with our "", which you can request by calling +49 (0)2373 891500 or download digitally.
Planning aids and basic knowledge Transient and lightning protection systems
Download, pdf, 8 MB