USB charging device Modul 45
The OBO USB socket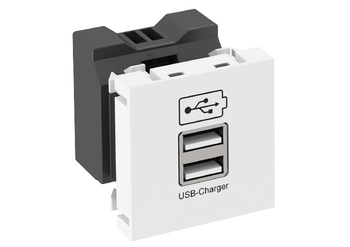 The latest innovation amongst the Modul 45 devices: The USB charger for one to two mobile devices. Whether in device installation ducts, service poles or ‒ in any office, the charging device offers the option of charging a tablet or mobile phone directly at the workplace. The advantage: When the battery of your smartphone or tablet is empty, you only require one USB charging cable and no mobile charging device with a mains plug for charging. Even travellers, who only have a charging device with a plug not used in the country, now no longer need an extra adapter.
A good idea everywhere
Typical areas of application for the Modul 45 USB charger are therefore airports, hotels and conference centres, but the USB socket can also show its strengths in meeting rooms or classic office areas. The charging current of the USB module is 1.2 A ‒ it is available in the colour variants pure white, black-grey and aluminium.
Modul 45 ‒ compact, flexible & powerful
The Modul 45 system has established itself as the standard for electrical installations in . The compact, 45 x 45 mm modules require considerably less space than standard installation systems. Nonetheless, they offer a wide range standard of installation solutions for power, data and multimedia technology. They are installed in universal supports and mounting boxes.
Additional information