GAD design device installation trunking
Solutions for wall installations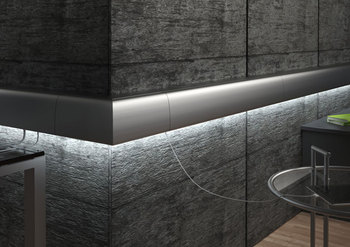 Perfect in form and function
Connectors, power supplies, data and network connections – none of this can be seen from the outside. The GAD design device installation trunking is OBO's finest device installation product. The only thing it shows the world is a fine, solid aluminium front panel. Anything which impacts on the reduced shape disappears behind the swivellable trunking cover, which is available in three shapes.
Device installation
The 45 mm system opening for direct installation of the switching and connection devices of the Modul 45 series means that OBO has been able to keep the trunking system particularly compact. The cables are run out of the trunking system in bundled form using a cover adapter at the desired point.
LED light bar
An LED light bar can be mounted on the bottom side of the trunking system. It provides discreet lighting of the walls and surfaces beneath the duct system.
Areas of application
The GAD design device installation trunking unites perfect design and the highest-quality materials with functionality in mounting and use. It is thus the ideal system for hotel receptions, till areas in boutiques and high-class offices.
Product video GAD design device installation trunking
Additional information