Installation of floor boxes in polished screeds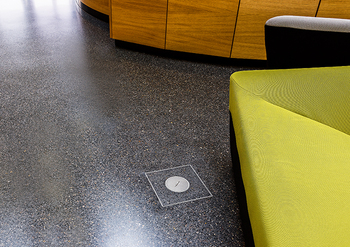 Jointless floor areas, such as Terrazzo or polished cement and poured asphalt screeds, are the latest trend in modern interior architecture. Architects and customers value this type of floor covering design for its varied design options and its economy.
OBO Bettermann can offer a special underfloor solution, in order to integrate access points to the electrical installation into the floor area without joints: The cassette lined body for polished screeds. The stainless-steel cassettes offer installation space for up to 12 sockets or numerous data and multimedia connections of the OBO Modul 45 series.
Use in polished poured asphalt screed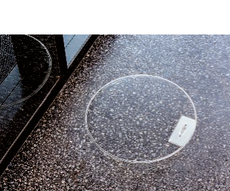 Poured asphalt screed is used where there are high requirements for heat protection, noise insulation and the elasticity of the floor covering. This screed type does not required drying times: The floor is ready for use shortly after laying. The components of the floor box are made from robust metal. The hot poured asphalt screed can therefore be worked directly onto the cassette frame and the cassette lined body.
Electrical installation in polished cement screed
The underfloor solutions for polished screed floors from OBO can also be used in cement screeds. If cement screeds are polished multiple times, jointless floor areas with aggregate are created. One variant of this screed type is the Terrazzo floor.
The cassette lined body for polished screeds is designed in such a way that cassettes are integrated into the floor without gaps. The floor covering recess of the cassette lid is filled with a Terrazzo layer, which is specially polished together with suitable tools. This avoids unattractive joints. In this way, the access points to the electrical installations in the floor can be given an attractive appearance.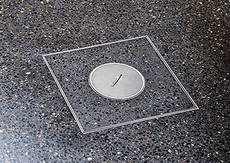 Cassettes with a tube body lid are suitable for classic wet care: The tube body protects the installation compartment against ingressing water. The cassettes were tested according EN 50085-2-2 for use in wet-cleaned floors. The requirements of the standard are also fulfilled when the tube body is opened to let out cables.
Floor boxes with folding cord outlets are suitable for dry floor cleaning or for moistened floor cleaning with a wrung mop.
This is how floor box mounting is carried out in polished screed:
Additional information