Rapid 80 device installation trunking
Flexible, combinable, economic ‒ the modular dado trunking for all office areas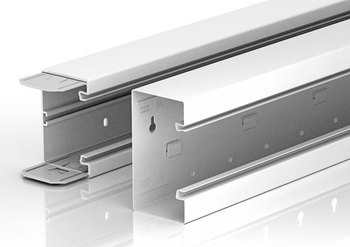 The Rapid 80 installation trunking combines design and function into a single system in a convincing manner. Thanks to the consistent standardisation of system components, you can use the three types of trunking, in plastic, aluminium or sheet steel, as individual variants or in combination. The accessory parts, such as end pieces or variable fittings, fit all versions.
All the Rapid 80 device installation trunking has an inner system opening of 76.5 mm. This ensures that sockets, data technology elements and small switch ranges with large external radii can be inserted without visible gaps. The ideal solution for areas in which you have a lot to install.
Rapid 80: Strong design – first-class processing
Rapid 80 combines straightforward design and the highest quality with perfect handling in termination and processing. The trunking covers are smooth, fluted or transparent. Accessory parts, such as end pieces or variable fittings, fit both the plastic and sheet steel trunking as well as the aluminium trunking.

Free choice of electrical installation
The Rapid 80 plastic range (GK) is available in four colours, one trunking height and three trunking widths. The trunking has one compartment, is symmetrical and is available with all the required fittings All the trunking haspre-mounted trunking couplings.
Optional: Halogen-free version
Low smoke gas, low corrosion, safe: Halogen-free Rapid 80 device installation trunking fulfils high safety standards. Completely manufactured from halogen-free plastics, if there is a fire, it reduces the amount of toxic smoke gases and the formation of corrosive substances. (Available shortly)
Many sheet steel and aluminium variants
The Rapid 80 sheet steel product range (GS) and the Rapid 80 aluminium product range (GA) are offered in two trunking heights and four trunking widths. The trunking is available in single-compartment, double-compartment or asymmetrical variants. All the appropriate fittings are available for all the variants.
All the advantages of Rapid 80 at a glance: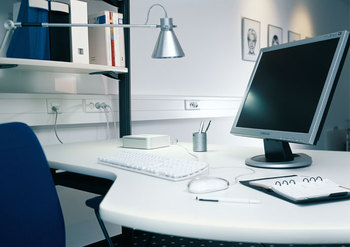 Faster, simpler device installation using standardised device installation sockets of the 71GD series for standard devices, 1x and 2x, Modul 45 and as a mounting support for data technology.
Increased clarity through universally applicable accessories: Covers, duct clamps, trunking end pieces and hood fittings.
Faster installation through quick couplings for PVC and locking couplings for GS and aluminium.
Extremely stable wall panels, which can be adjusted by up to 6° in a horizontal direction, with pre-mounted nuts for trunking fastening.
Effective noise protection through noise limit barriers in wall penetrations.
Standard internal system opening of 76.5 mm for all PVC, steel and aluminium device installation trunking.
Halogen-free dimensions available.
Standardised duct clamps for all trunking systems.
Pre-terminated socket units.
Installation units for series-mounted devices.
Overlapping end pieces to hide cut edges.
Mounting video, Rapid 80
Additional information