OBO service poles – flexibility in the room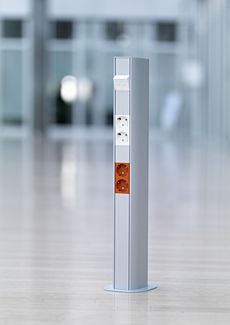 If workplaces are to be tidy and safe but still remain mobile, then service poles from OBO Bettermann are the ideal solution. Slender, flexible in position and quick to mount – the OBO power pole systems are also ideal for temporary workplaces and quick changes of use, for example in open-plan offices and administration buildings, but also in the till areas of shops and in production halls.
The wide range leaves plenty of space for individual designs: OBO customers can choose from the two basic materials, sheet steel or aluminium, as well as 7 (floor service poles) or 10 (floor-ceiling service poles) different profiles in various designs.
Uncomplicated device installation

The OBO service poles can be equipped with switches, sockets and data connections of conventional product ranges and also with OBO's own Modul 45 systems. The latter are available in a 33° variant for angular connectors, in order to guarantee optimum cable routing for vertical mounting in service poles.
Floor service poles
In the field of raised and cavity floors, floor service poles are ideal for a safe and elegant supply close to the desk. After infeed via an they can be mounted freely on or under the desk and facilitate fast access to power and data. The standard supply heights of 250 mm to 680 mm ensure sufficient space to accept the required switching and connection devices.
Floor to ceiling service poles
When fixed between the floor and ceiling, the ceiling connection poles allow a comfortable supply at the workplace. Fastening using a clamping device allows trackless moving of the poles – without any damage to ceilings or floors.
Besides the required power and data connections, the service poles can optionally supply lighting for the workplace. The supply in the poles available in the standard lengths between 2,300 mm and 3,950 mm and in various designs is guaranteed by or the false ceiling.
The service poles supplied from the ceiling and with a flexible hose to it offer particular flexibility. They are freely moveable in the room thanks to a floor plate and can be repositioned in a radius of approx. 1 m to 1.5 m using the flexible hose.
Clever solutions
As ever, OBO can offer practical and flexible solutions for almost any problem when planning perfect workplace supply systems. Thus, service poles of between 60 cm and 4 m, and thus deviating from the standard, are available in individual dimensions and colours.
Planners value the prewired OBO service poles, which are created fully equipped and individually in the required length, and which are delivered with a logged function test according to VDE device testing conditions. Thus the service pole only needs to be erected at the required location and connected via "plug & play" – a minimum of mounting work and time!
Additional information