Service outlet, metal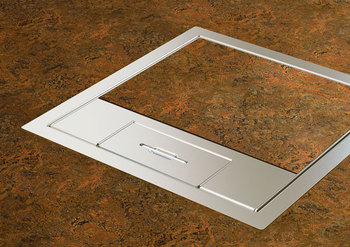 This service outlet can endure quite a bit. Its carpet protection frame and hinged lid are made from stainless steel, the installation frame and the solid, 3 mm-thick pressure plate in the lid are made from galvanised sheet steel. The service outlet is therefore even more robust than the previous model with a plastic bottom part.
The service outlet is ideally suited for the use in schools or public areas as its robust material offers excellent protection against vandalism and the toughest demands.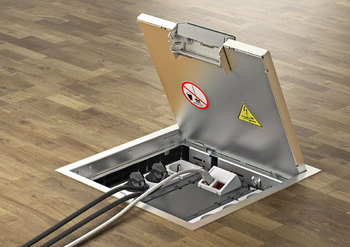 The earthing concept without PE cable already known from our cassettes is also used here. Moreover, the model has a swivelling stainless steel cord outlet which protects the cable exit in dry-care floors. The unit can be mounted in a minimum installation depth of 80 mm in trunking systems, as well as in raised and cavity floors.
The service outlet for the installation of power, data and multimedia equipment can be lowered by a maximum of 35 mm in the insert frame.
Resistant against vandalism
Earthing without PE cable
High-quality stainless steel version
Additional information