Universal support UT3 & UT4
Well thought-out ‒ the new UT3 & UT4 universal supports
The OBO UT universal supports offer a wide range of installation options for service outlets and cassettes with locking ladder. The new models UT3 and UT4 were developed for the installation of Modul 45 devices and standard installation devices with 50 mm central plate. They offer countless combination options for the installation of power, data and multimedia technology.
Cover plates for flexible device equipment
With the universal support, device equipment is determined by the selection of the cover plates. The module support has space for up to four Modul 45 devices. Combinations of Modul 45 devices and standard installation devices are also possible.
Support frame with innovative sash lock
The universal support is fastened in the locking ladder of a cassette or a service outlet with a sash lock.The mounting box is installed and safely locked with just a few actions.
Removable floor plates
The floor plate can be removed, either partially or completed. The benefit: When installing data and multimedia technology, the cables can simply be run downwards out of the universal support.
Inserting a universal support
To create the largest possible amount of free space for the device connectors, the universal support is inserted in the lowest possible locking ladder track. After this, the sash lock is first pushed towards the locking ladder, then swivelled to the side and engaged. The universal support is then securely fastened in the device installation unit.
Flexible use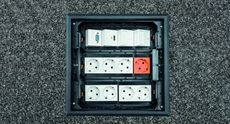 Of course, the new universal supports UT3 & UT4 are compatible with many OBO device installation units and can be installed in the UDHOME floor sockets and floor boxes, the GES service outlets and in the underfloor cassettes.
Product video, universal support UT
Additional Information