IBK in-concrete duct system
The requirements for installations in modern buildings develop continuously. The new OBO IBK system is matched to the latest technological standards.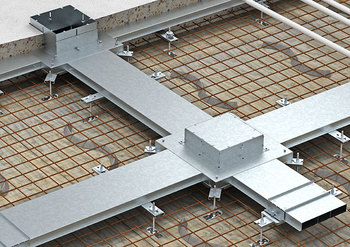 Newly developed. From the ground up.
Easy mounting, robustness and a perfect inclusion in the building, all of these are offered by the new in-concrete system. It is matched to the latest developments and trends in construction, both to the technology of concrete core activation and to current fire protection guidelines.
Thanks to many years of experience in development and project planning for underfloor installations, OBO knows the requirements for in-concrete systems. This is just one of the reasons OBO is the market leader in this field.
Perfect integration: In-concrete ducts in modern buildings
The in-concrete duct system is suitable for use in concrete floor plates and concrete ceilings ‒ irrespective of whether they are ceilings encased during construction or are ceilings made of filigree plates. Thanks to its continuous height adjustment of ducts and sockets, the system can adapted to all kinds of project requirements.
The ducts are located in the neutral zone between the upper and lower reinforcement and can also be used for simultaneous concrete core activation – cooling and heating via the floor or the ceiling.
On one level – mounting made easy
The IBK system is located between the upper and lower reinforcement of the concrete plate. This means that work between the strands of the steel mats makes mounting difficult. New, swivellable height-adjustment units now allow considerably simpler installation.
Height-adjustment units, standardised for the entire system, are used. The floor plate of the device socket, the connection elements and the supports are the all same height.
IBK ‒ robust, closed and secure
Details in the construction of the new IBK system ensure very practical benefits. Thus, for example, the system remains closed off with a mounting protection lid up to device installation and is thus protected against dirt without any masking. The protection lid prevents workplace accidents during the construction phase and is so robust that it is unaffected by concrete working and the mechanical processing of concrete areas.
Installation principle, in-concrete duct system
1 In-concrete socket
2 Cover socket for device installation
3 Mounting protection lid
4 Inner lined body
5 Electrical installation duct, 2 or 3-compartment, 38 or 48 mm high
6 Connection strap with equipotential bonding
7 Duct support
8 Height-adjustment unit
Seamlessly integrated in the concrete
The integrated lined body of the socket, its external wall, can be cast directly in the concrete. Thus, the concrete can be worked to the socket without any cavities requiring later filling. While the outer wall is fixed in the concrete, the height of the inner lined body can be adjusted flexibly. Its side walls are designed for a standard height of 80 mm above the socket.
Additional information