Rapid 45-2 device installation trunking
The new Rapid 45-2: The chameleon amongst dado trunking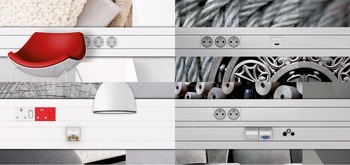 The new Rapid 45-2 device installation trunking stands out through its versatility and adaptability. It unites a symmetry, homogeneous colour quality and technical flexibility in a single system. Whether in the office, in commercial areas or in industry ‒ its innovative fittings make practical wall installation possible anywhere.
Even more flexible & practical
With an additional width, the trunking can now offer even more application options. This is because, in the plastic and aluminium version, not only the standard dimensions of 100 and 165 mm are available, but also a 130 mm wide model. In addition, the plastic trunking range also contains a three-draw width of 160 mm.
A further practical innovation: The plastic and aluminium cable trunking is now constructed symmetrically. Thanks to this structure, fittings such as the T piece adapter or end pieces can be used more variably.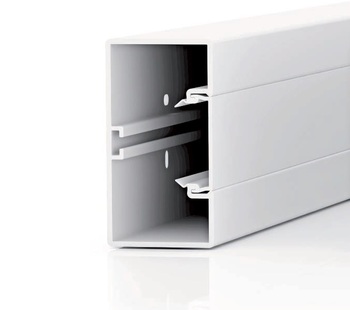 Range of variants
In the plastic variant, Rapid 45-2 is able to shine in both its light grey and pure white versions. Four trunking widths are available.
Quick mounting
Intelligent mounting details, such as joint connectors and covers, allow rapid installation.
Fittings
A compact selection of fittings, such as internal and external corners, flat angles and T pieces, ensure tidy mounting. The hood fittings fit both the plastic system and the aluminium system.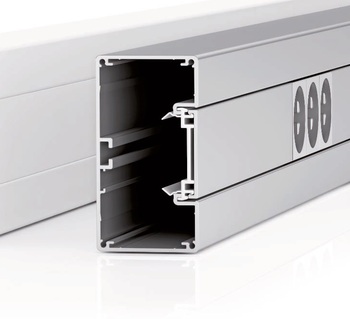 Range of variants
With anodised or pure white powder-coated surfaces, aluminium Rapid 45-2 device installation trunking can bring elegance to the workplace. Special colours can also be implemented on request. Three trunking widths are available.
Fittings
Fixed and variable fittings, such as internal corners, external corners and T pieces, make installation perfect.
Innovative cover
The new cover consists of a PVC base profile and an aluminium panel profile. It does not need to be included in the protective measure. Mounting and dismantling are very simple.
Anodised surface
During anodising, metal surfaces are electrically oxidised. This creates an extremely hard, scratch-resistant surface. Compared to other treatment methods, no outside material is used. The metallic character of the aluminium remains intact. In addition, the method offers reliable protection against corrosion.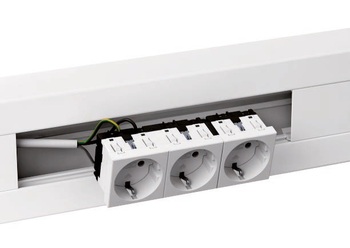 The perfect supplement: Devices of the OBO Modul 45 series
Switches, sockets and data technology and multimedia elements are simply snapped into the system environment by hand – and the practical installation is already complete. Compared with standard installation types, the cost of installation, expansion and replacement of devices is considerably lower. No additional components, such as accessory mounting boxes, adapters or cover frames, are required.
Additional information