Surge protection for every new building
From now on, new standards prescribe mandatory surge protection for standardised electrical installations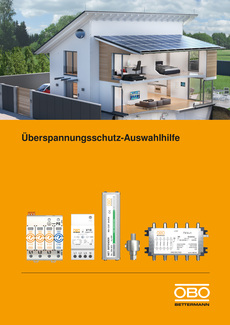 It's official: In every new building to receive a standardised electrical installation ‒ surge protection is a must. The revised standards DIN VDE 0100-443 and DIN VDE 0100-534 have been in force since 1 October 2016 and specify where, when and how each type of surge protection is to be installed.
In industry and commerce, public buildings, hospitals and other facilities, protection devices were already prescribed for a standardised electrical installation. What's new is the obligation to plan surge protection in all new houses and purpose-built buildings.
In concrete terms, this affects areas in which "groups of people" are to be expected ‒ for example, large housing blocks, offices, schools or churches. In addition, the standard DIN VDE 0100-443 names areas used by "individual people" ‒ such as housing and small offices, if, in these buildings, resources of surge voltage category I or II are installed.
Resources of surge voltage category I and II are, for example, buildings and heating controllers, telephone systems or roller shutter controllers. Also, electronic devices, such as computers or sensitive kitchen appliances are endangered by surge voltages and are used on a daily basis in almost every household. Suitable surge protection provides increased safety for these devices and also prevents arcing and the resulting fires in buildings.
Standardised surge protection from OBO Bettermann
According to the opinion of the experts in the field of surge protection at OBO Bettermann, the revised standards finally meet the increased requirements in the field of electrics and electronics. For decades, surge protection has been a core area amongst OBO's product solutions. Products have been continually adapted to meet the current circumstances in the buildings. In this way, OBO solutions can be used to meet the requirements of the updated standards with ease.
The current OBO surge protection aid offers a good overview of the different products and applications, as well as a comprehensive overview of the new standards. You can download this here.
Downloads