The new GES R2 floor sockets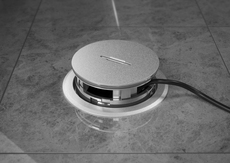 Compact underfloor solutions with improved properties
Menden. The new GES R2 round floor sockets from Ackermann made by OBO score through the increased installation space, two additional cover variants and a screed box with 3-point height adjustment. All the GES R2 floor sockets with metal cover are IP66-certified when closed.
The GES R2 floor sockets are ideally suited to areas which are to be discreetly supplied with power and data – whether in private housing or in public areas such as foyers or shopping malls.
Increased installation space
Compared to the predecessor GESRM2 model, the installation space has doubled: The installation socket of the GES R2 floor sockets can now accept a double socket of the Modul 45 series. There is also space for up to two data technology elements. The efficient construction within the installation socket allows an increase in the installation space, whilst the overall size of the GES R2 floor sockets is only slightly higher.
Additional cover variants: Tube body and cord outlet
The metal hinged cover of the predecessor model was reworked for the GES R2 floor sockets. The locking function of the cover ensures a safe cable exit. Two additional cover variants expand the application options of the GES R2 floor sockets. According to EN 50085-2-2, the variant with tube body is also suited for wet-cleaned floors when open. The plastic version of the GES R2 floor socket is now also available with a cord outlet, allowing a permanent cable exit for the supply of electrical equipment.
Screed box with 3-point height adjustment
The height-adjustable screed box accepts the service outlet when the GES R2 floor socket is installed in the screed. Using a simple 3-point height adjustment, the screed box can be adjusted exactly to the top edge of the screed and serves as a drip edge for screed routing. The high support area on the screed allows the acceptance of higher loads.
IP66 protection type for all metal cover variants
All GES R2 floor sockets with metal cover have obtained VDE certification with the protection rating IP66 in the closed state. When the cover is closed, the electrical resources therein are reliably protected against strong water jets. Three metallic cover variants are available: Blanking lid, hinged cover or tube body cover.
Downloads