Charge smartphones and tablets easily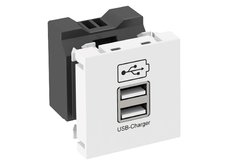 Independent of mobile charging devices and country-specific sockets: The new USB Charger from OBO Bettermann
The new USB Charger from the Modul 45 series at OBO Bettermann can charge up to two mobile devices simultaneously – comfortably via the standard USB port. The advantage: The user only requires one USB charging cable and no mobile charging device with a mains plug for charging. Thus, on journeys, there is no need for the tedious search for the right adapter for the socket. The USB Charger can be integrated in device installation trunking, in service poles and in underfloor systems. Typical areas of application are airports, hotels, conference centres or offices.
Practical for travellers
The charging of mobile devices such as smartphones or tablets via the USB connection is particularly useful in waiting areas in airports or in hotels. Travellers do not always have the right plug or adapter for the country-specific sockets to hand. By contrast, the USB connection is the same all around the world. For this reason, the USB Charger from OBO Bettermann is a useful solution. One charging cable with a USB connector is sufficient to charge mobile devices.
Uncomplicated at conferences and in meetings
The USB Charger can also show its strengths in meeting rooms or conference centres. International participants in particular can profit from the useful charging option via the USB connection. Finally, the USB Charger is also useful in classic office environments, in order to charge mobile devices without an additional charging device.
Suitable for different system environments
The USB Charger has a charging current of 1.2 A and is available painted in pure white, black-grey and aluminium. The product belongs to the compact Modul 45 series from OBO Bettermann and can be installed in all system environments suited to Modul 45 installation devices: on the wall in device installation trunking, in a freestanding manner in service poles or in the floor in underfloor systems.
Downloads