OBO Construct for earthing systems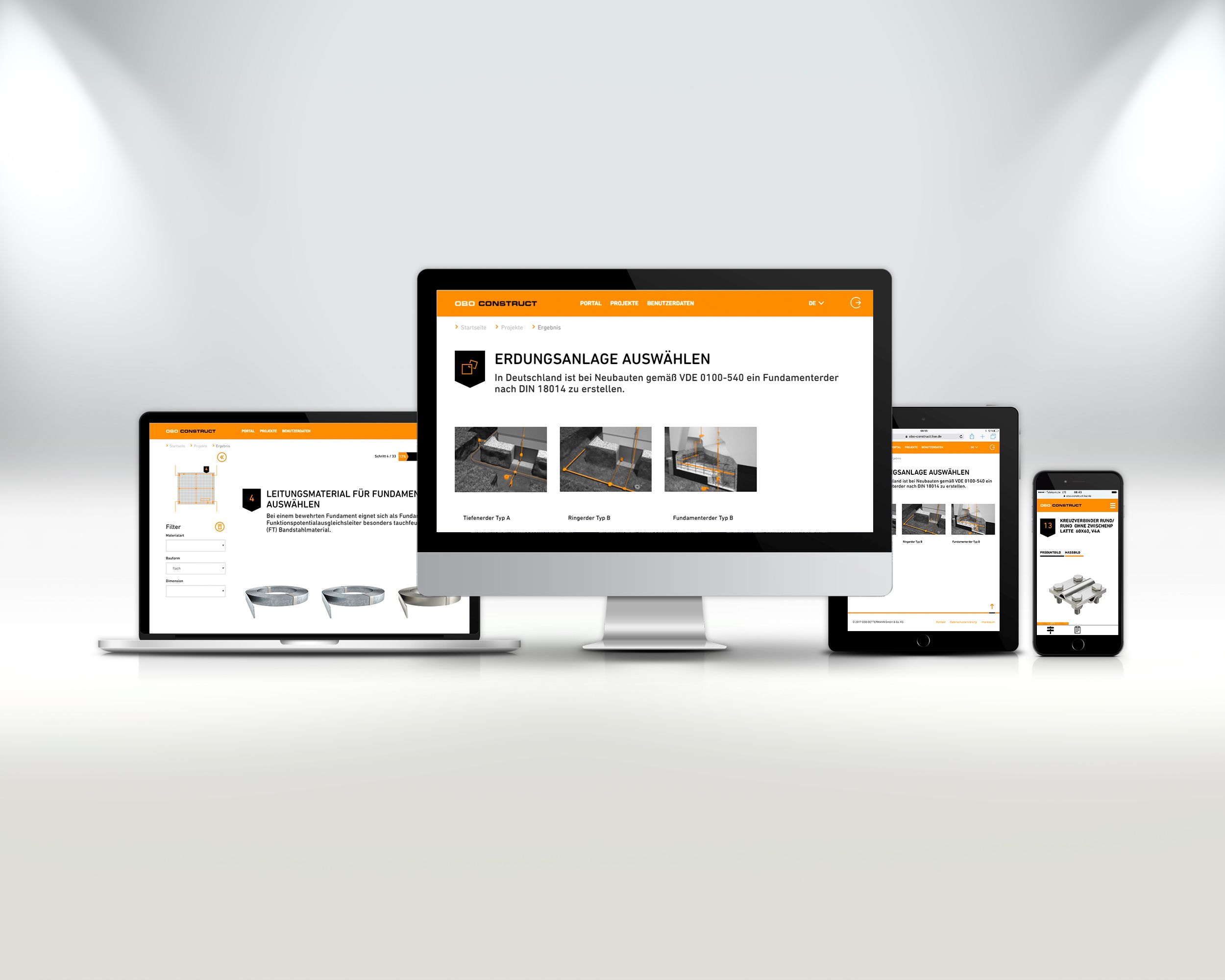 Menden. With OBO Construct, OBO Bettermann offers electronic planning aids that make designing electrical systems easier for electrical planners and installers. A new module is now available – Construct earthing.
Earthing systems form the basis for functioning equipotential bonding, thus making a major contribution to safety and preventing property damage. This is why in Germany, foundation earthers in accordance with the new DIN 18014 (2014) must be installed in new buildings as per VDE 0100-540.
The new DIN 18014 specifies:
Functional equipotential bonding for reliable functioning of the electrical system.
Measures for connecting the entire earthing system in contact with the earth, including in the case of insulated foundations or perimeter insulation.
Compliant configuration
However, the wide range of measures and decision-making guidelines, material combinations and required connections are not immediately apparent in the new DIN 18014. OBO Construct earthing ensures reliable specification thanks to structured questionnaires about the object or property concerned. Whether retrofits or new buildings, the programme determines the permitted materials and components depending on the application in accordance with DIN 18014 and VDE 0185-305-3. Ideal for planning small to medium-sized buildings, Construct earthing is designed to support trade users in designing compliant earthing systems.
The configurator is designed to provide simple and intuitive user guidance. The user clicks step by step through the individual components of the earthing system. The software then automatically calculates the amounts required. After configuration is complete, the user can download a summary in various file formats. Besides invitations to tender and the obligatory material list with quantities per component, users can also access a summary of all entered data and selected details in the form of a project description for the entire earthing system.
The advantages of Construct earthing
Structured data collection ensures compliance with the specifications of the new DIN 18014.
There is no need for you to perform elaborate calculations of the quantities.
There is no need to search for compatible products. This saves time and prevents incorrect orders.
The result can be directly exported as an item list to use for ordering or to assist in communication with the customer.
One app for all devices
The new Construct earthing forms the foundation for all future developments and advancements. In this way, OBO Bettermann consistently aims to make its OBO Construct planning software even more user-friendly and geared to current needs. The earthing software module features a refreshing, minimalistic design as a web application based on new technology. As a result, the application can be opened on any end device irrespective of its operating system – be it smartphone, tablet or desktop PC.
Considering the growing significance of digital service solutions in the technical sector especially, OBO Bettermann would like to provide its customers with support no matter when or where. The OBO Construct portal www.obo-construct.com offers access to OBO Construct earthing and all other configurators.
Downloads