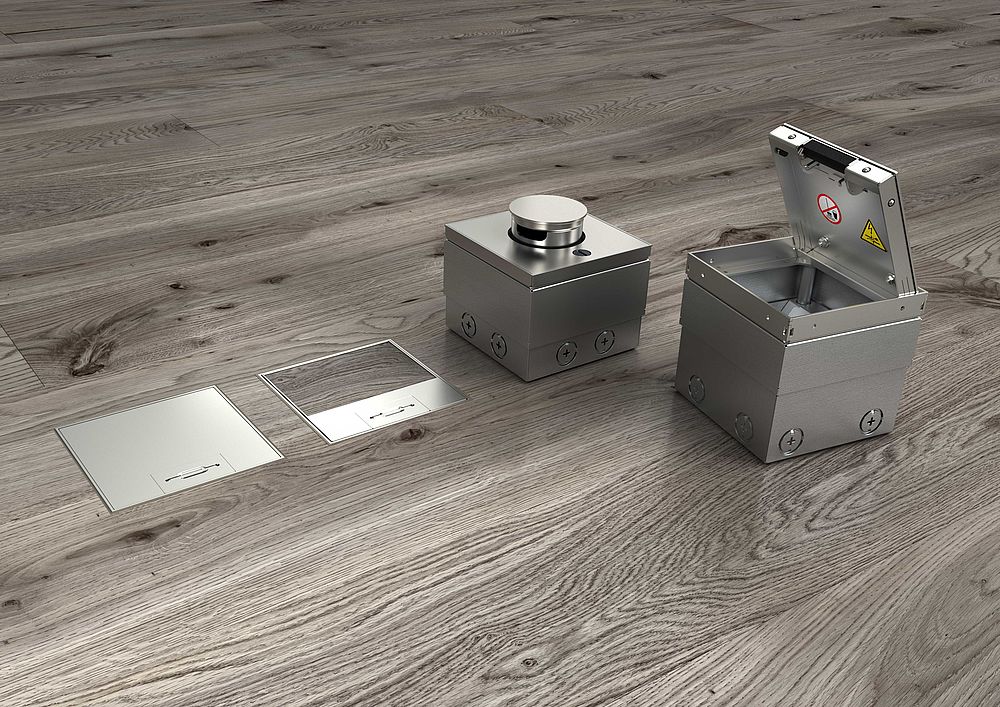 The new UDHOME2 floor socket
With the new UDHOME2, OBO Bettermann has launched a more advanced version of a bestseller onto the market. The smallest floor socket has been optimised in terms of space, with virtually the same external dimensions. Thanks to the 54-degree angled interior, it offers enough space for even the largest of plugs and also smaller charging units, which vanish below the closed cover. The UDHOME2 is still inconspicuous in the floor covering, with its narrow cover edges integrating seamlessly into different floor types.
This optimised UDHOME 2 represents a clear improvement for end customers and installation engineers: The altered mounting and utilisation space make for easier, more efficient handling.
The UDHOME2 floor socket is suitable for installation in screed floors and also in system floors. The versions with a folding cord outlet are suitable for dry/damp-care floor coverings, such as parquet or laminate.
For the version with a floor covering recess, floor coverings of stone, tiles, plastic or wood can be integrated easily in the cover.
The compact design, measuring just 140 x 140 millimetres, offers space for two Modul45® devices and up to two data technology modules. Height-adjustment supports enable an overall height of up to 135 millimetres, exceeding 190 millimetres with accessories. Pre-marked entry openings for pipes (M25) allow simple connection with flexible installation pipes.
If the installation compartment for 2 sockets is insufficient, the UDHOME4 and 9 floor boxes are suitable, offering space for 6 or 12 M45 installation devices. These floor boxes can also be supplied simply via installation pipe in the screed.
Various solutions from OBO Bettermann are suitable for the electrical supply of larger floor areas with floor boxes ‒ in these cases with service outlets and cassettes ‒ such as screed-flush trunking or screed-covered duct systems.
Video on the UDHOME2 floor socket
Mounting video, UDHOME2
Additional information