VK wiring trunking system

An exceptionally large range of products in the usual high quality: The wiring trunking ensures tidy wiring in a switching cabinet. All the trunking are made from lead-free material. For optimum safety, a selection of of halogen-free trunking is available.
For professional wiring installation, VK wiring trunking in dimensions between 15 x 15 mm and 100 x 100 mm is available. A soft, burr-free slot and rounded tabs make mounting easier and also prevent injuries. Upon request we can also offer special designs.
Precise measurements and tested quality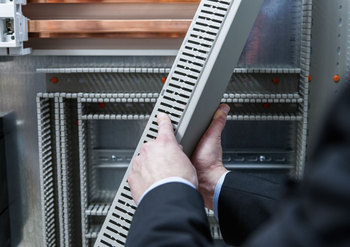 The LK4 and LK4/N as well as the LKV and LKV/N trunking systems have exactly predetermined points for easy breaking-out of the side retainers. All the types have, depending on their size, single or dual track perforation to their base. Tapering in the side slots of the LK4/N and LKV/N types prevents the cables from falling out. The wiring trunking is VDE-tested and UL-listed (UL File E301798).
Benefits of VK wiring trunking
OBO wiring trunking stands out through a wide range of benefits which have long proven their worth in switching cabinet construction. Even in continuous operation, they guarantee secure connections and the reliable function of the electrical infrastructure.
1. Stable trunking with high-quality thicknesses
2. Exact predetermined breaking points in the strut and base area
3. Soft, burr-free slot, rounded tabs
4. Absolute dimensional accuracy of the side perforation and floor perforation
5. Cut edges rounded and deburred in the closing area
6. Firm positioning of the covers through optimum closing contours
7. Wire retaining nose allows wiring without wire retaining clamp and prevents already routed wires from falling out
Special solutions
Starting dimension of the base perforation can be adjusted variably
Available without base perforation
Special lengths
Special colours