Rapid 80 covers for backlighting
A highlight in the room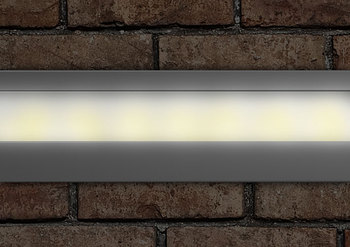 OBO offers attractive design options with translucent covers for device installation trunking of the Rapid 80 series.
Plastic device installation trunkig is always a good choice for the routing of cables in walls both in offices and living spaces. When mounted at a suitable height, they allow flexible and quick access to power and data. OBO now offers attractive design options with translucent covers for Rapid 80 device installation trunking or ISS service poles. Lighting elements can be integrated into the 76.5 millimetre-large system openings. In combination with covers in a clear or opal look , discreet and indirect lighting effects can be created. The free-standing ISS service poles from OBO in particular become an eye-catcher.
OBO offers the new covers in two variants. The transparent version has longitudinal fluting inside. The opal model is smooth and the translucent look provides atmospheric accents. The use of coloured lighting offers even more opportunities for the individual wall design. The covers, made from polycarbonate, are easy to handle and are available in 2000 millimetre lengths.
Product video, Rapid 80 device installation trunking
Additional information