OBO Deskboxes – solutions for the last metre

More efficiency at the workplace: The elegant Deskboxes from OBO Bettermann guarantee direct access to power, data and multimedia connections at the workplace. Clamping, folding and lowerable Deskbox variants allows individual solutions for desks and meeting and conference rooms. We can offer multiple standard variants of pre-terminated, ready-to-connect Deskboxes for the daily requirements of office communication. Alternatively, you can have each Deskbox individually equipped with a comprehensive selection of installation devices from an order quantity of just 5 units.
Standard version or individual configuration ‒ the choice is yours
OBO Deskboxes are available in three different standard versions, which all offer the connections required in everyday office work:
"Energy" variant: Sockets
"Energy + data technology" variant: Sockets, telephone and Ethernet
"Energy + data technology + multimedia technology" variant: Sockets, telephone, Ethernet, HDMI (or VGA)
For individual equipment*, tailor-made to your workplaces, OBO can offer a comprehensive selection of country-specific sockets, data technology connections, surge protection modules and multimedia connections. Of course, we can also supply your desired configuration ready for connection, tested and with all the required connection cables.
The Deskbox DB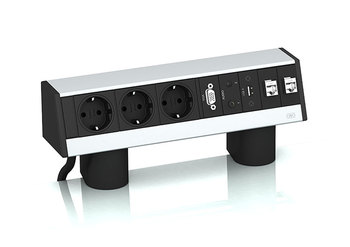 High-quality material, slim design and variable installation options: The Deskbox DB can prove itself through its appearance and versatility. The Deskbox, made of high-quality aluminium, can be positioned anywhere in the workplace, thus offering a range of design options.
The foldable Deskbox DBK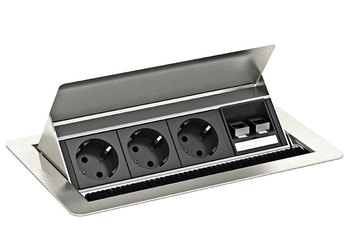 Whether at a workplace or a conference table – the range of applications of the folding Deskbox DBK is huge. No matter whether for laptops, beamers or PCs: Connection is as easy as you'd expect. Open the flap, insert the connector, close the flap. The integrated brush bar allows tidy running out of the cables.
The high-quality, robust brushed stainless steel housing is ideally suited for use in conference and meeting rooms.
The lowerable Deskbox DBV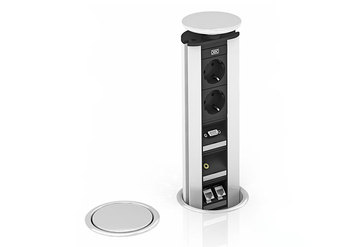 The lowerable Deskbox ensures an unnoticed supply with power and data. When closed, it is flat and discreet on the tabletop. If necessary, the Deskbox DBV can simply be pulled out – the appropriate plug connections are then easy to reach.
The anodised aluminium housing and various lid variants made of solid stainless steel or silver-coloured plastic allow an elegant integration into various tabletops.
Use in office and conference rooms
Product video
Additional information