Promotional packages from OBO Bettermann for surge protection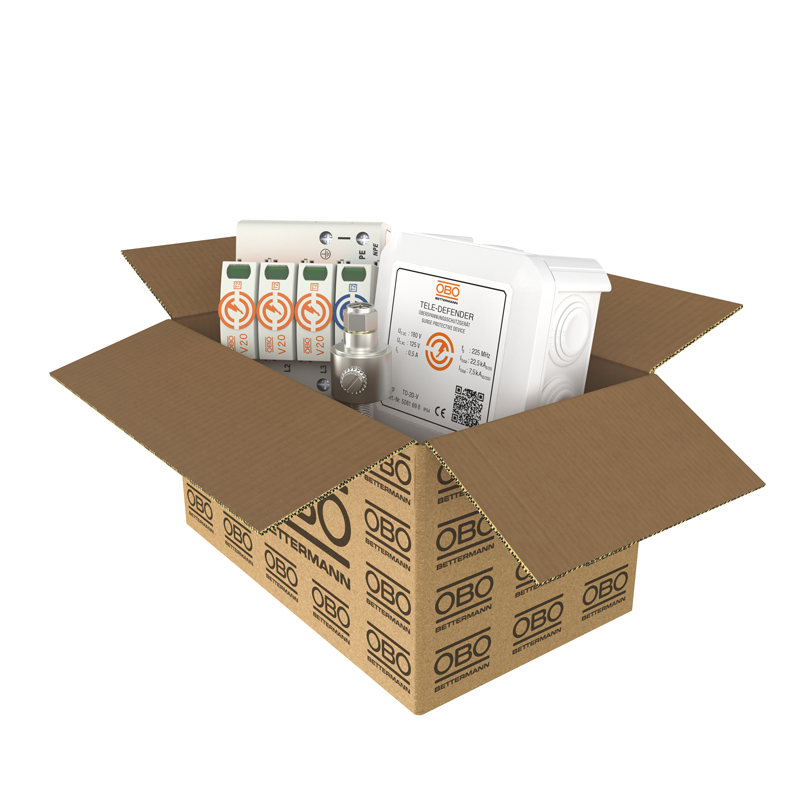 The importance of surge protection
Equipping modern buildings and industrial systems with increasingly sensitive electrical technology requires, now more than ever, professional and reliable surge protection to securely shield devices and data. Surge protection in accordance with VDE 0100-443 has been mandatory since October 2016 in all new or extended buildings and for all new electrical installations. OBO Bettermann now offers two special promotional packages for surge protection, which allow electricians to simultaneously benefit from an excellent price and provide basic protection both in residential buildings and in industrial systems.
Basic protection from OBO Bettermann
The two promotional packages for surge protection contain either two or three devices, and are available at a special price from participating electrical wholesalers. The devices comply with all requirements of the VDE for surge protection devices. The packages contain a type 2 V20 arrestor for increased safety requirements, a Tele Defender to protect telecommunication systems and an optional DS-F M/F data cable protection device for TV and satellite systems, multiswitches and receivers, as well as DVB-T(2). This provides equal protection for cables for power supply, telecommunications and the TV cable feed, as all of these cables can be damaged by surge voltages.
Inform your end customers
A free flyer supports specialist installers in advising their customers as well as marketing their products and services in the area of surge protection. The flyer can be individualised with your own company stamp on the back – a simple way to produce a high-quality sales document. In addition to the flyer, the comprehensive surge protection selection guide for residential buildings assists electricians in choosing the correct surge protection devices.
Don't underestimate damage from surge voltages
Damage from surge voltages occurs not only from direct lightning strikes, which can cause significant destruction. Serious damage to electronic devices and systems is more commonly caused by surge voltages from lightning strikes within a radius of two kilometres. Ordinary surge voltages from the power grid can also impair the function of electronic devices. The damage caused by surge voltages should not be underestimated. Electrical devices and systems can be destroyed to the point that not just functions such as light control, alarm systems or fire alarms fail; if, for example, important components of an industrial system are also damaged, this can lead to considerable costs due to losses in production. The loss of data due to damaged storage media is also not insignificant, because data is a valuable asset that no insurance can replace. This potential damage can be largely avoided with professionally designed sruge voltage protection. The devices from OBO Bettermann provide basic protection for different types of cables at various installation locations. Retrofitting surge protection devices is also not a problem.
The surge protection devices in detail
The type 2 V20 arrestor series with VDE test marks for surge protection according to VDE 0100-443 (IED 60364-4-44) is designed for buildings without an (external) lightning protection system and is used in the main distributor and in subdistributors/switchgear cabinets of the building. With a total arresting capacity of 40 kA per pin, the V20 surge protection devices are also suitable for use in systems with increased safety requirements according to DIN VDE 0100-534.
The Tele Defender from OBO Bettermann is used at the demarcation point for the telecommunication equipment and offers reliable protection for telecommunication systems and systems for measurements and control technology. With a bandwidth of up to 100 Megahertz, the Tele Defender covers a wide frequency range. Current- and voltage-limiting elements are integrated in the device, ensuring an arresting capacity of up to 25 kA.
The coaxial DS-F M/F data cable protection device for basic protection is especially useful for TV and satellite systems, multi-switches and receivers, as well as DVB-T(2). It is used either directly before the terminal device or at the house transfer point of the broadband cable connection. The device has a pulse current carrying capacity of 10 kA and offers interference-free data transmission. With an adapter connector and the provided OBO Quick clip, the device is extremely easy to install. The promotional package from OBO is a reliable foundation for providing the highest level of protection against surge voltages for all levels of a building, at a moderate price.
Image gallery
Downloads