Protection aim 2: Basic principles
Protection of escape routes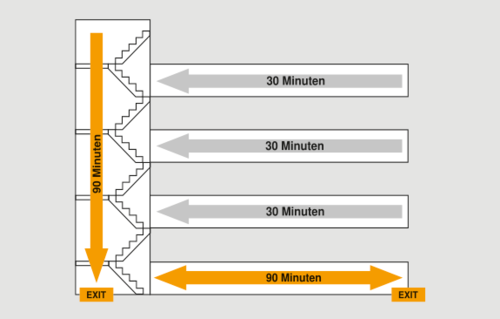 95% of all deaths during fires are caused by smoke poisoning. To be able to evacuate people safely out of the building during a fire, escape and rescue routes must always stay free of smoke and fire. In case of fire, escape and rescue routes are the central lifeline and must always remain usable.
In principle, the escape and rescue routes represent areas free of fire, i.e. installations consist of non-combustible or flame-retardant materials, in order to prevent the spread of a fire. The fire resistance period of the surrounding components is at least 30 minutes (flame-retardant). Staircases and the vestibules between a staircase and the exit into the open air must be designed to be fire-resistant, with a fire resistance of 90 minutes.
There must be a guarantee that, if there is a fire, these routes can be used to leave the building without any risk. In addition to evacuation, the escape and rescue routes also aid the local fire brigades as a point of attack.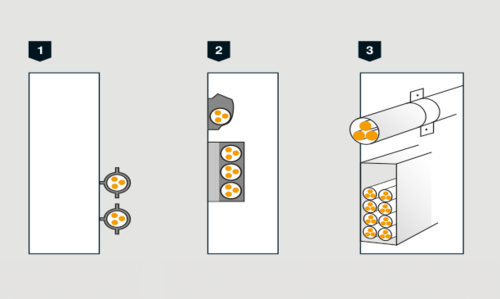 As, in most corridors, the installations of all the different networks meet - electrics, sanitation, ventilation and air-conditioning - the electrical installation is a special case. Electricity is the #1 cause of fire, which is also responsible for the ignition of combustible materials, such as cable insulation, insulation layers of pipes etc. Under normal circumstances, a correctly executed electrical installation with a correctly selected wire cross-section, correct fuses and avoidance of damage during drawing in would not be dangerous. Excessive heating due to improper design and dimensioning of the cables or damage to the insulation have frequently been the cause of fires.
The following cable installations are permitted in escape routes:
Individual, also arranged next to one another, fully concealed
In solid components with milled slots, with 15 cm plaster coverage or cover with 15 mm-thick, non-combustible plates
Within lightweight partitions, however only for the supply of consumers mounted on this component
Electrical cables may be installed uncovered, if they are only used to supply rooms and corridors or are non-combustible. However, such cables do not occur in practice.
For fastening, the cable routing ducts or electrical installation pipes, made of non-combustible materials (steel), must be used. Accordingly, steel anchors are used for fastening.
Installations in lightweight partitions
Frequently, lightweight partitions in stand-off design are installed in escape and rescue routes. The walls are made of metal profiles, which are closed on both sides with two sides of plasterboard of 12.5 mm thickness. Filling the interspace with mineral wool can be a fire protection or noise protection requirement. This design fulfils fire resistance periods of at least 30 minutes.

The recesses in the metal profiles are used to route cables. If switches or sockets are inserted in the lightweight partitions, then cavity wall sockets are used. The cavity wall sockets may be used on one side without special measures. The internal mineral wool may be compressed to a thickness of 30 mm. Opposing installation in flame-retardant walls is not approved with standard cavity wall sockets. Here, special fire protection cavity wall sockets are required, which have been proven to be tested for this application.
Installation in false ceilings
If corridors are used for the routing of the whole building technology, suspended fire protection ceilings are often used. If there is a fire, the systems, tested at the top and bottom for fire loads, safely shield the false ceiling areas created. If there is a fire in the cables installed there, the escape and rescue route can still be used. However, there must be a guarantee that the suspended ceilings are not subjected to additional mechanical loads through, for example, falling cables or parts of the support system. In addition, the fire protection ceilings protect the combustible installations against a fire from below, preventing the fire from spreading along the corridor via the burning installations.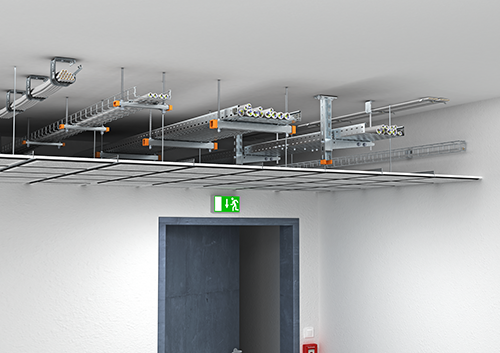 Suspended ceilings with fire protection properties (fire protection ceilings or F30 ceilings) often possess general construction test reports and classification reports according to the relevant testing and classification standards. There are various manufacturers and providers for these. However, for support systems, the situation above fire protection ceilings looks rather different. To be able to offer practical solutions conformant with the directives for electrical installations above suspended fire protection ceilings, fire tests are carried out according to DIN 4102 Part 12 and Part 4.
The following are tested, for example:
Cable support systems for wall and ceiling mounting
Grouped supports for wall and ceiling mounting
Pressure clips for ceiling mounting
Ceiling supports for ceiling mounting
Cable systems for suspending cable trays
All the systems are usually made of steel, as non-combustible materials are required. The appropriate fastening anchors are also subject to this requirement.
The following requirements for false ceiling systems are tested in case of fire:
High mechanical load
Stability of the routing system
Deformation of the laying system
The tests are carried out using the standardised temperature-time curve. A full fire is then simulated in the false ceiling area. In most cases, the fire resistance length is set as 30 minutes, but, in special cases, it can be 90 minutes. The test results can be used to make statements on practical execution, e.g. on compliance of spacing distances to the false ceiling.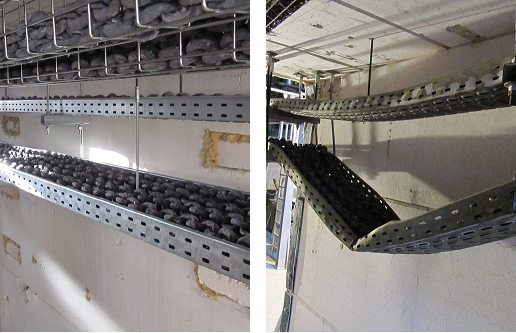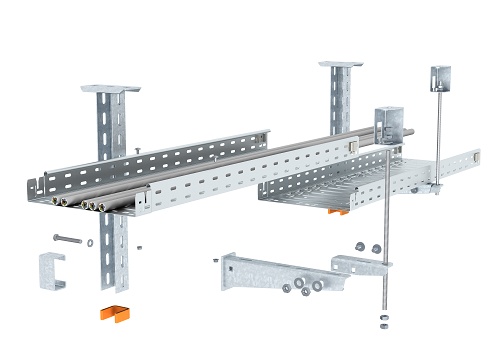 There is no testing standard for installations above fire protection ceilings and thus no classification is possible. Test criteria are the deformation of the support systems, as well as possible falling due to heat. The tests need not be carried out by an accredited testing institute but can, in principle, be carried out and documented by the manufacturer themselves. The manufacturer's documentation should contain all the relevant parameters, such as the maximum mechanical loads, support spacings, securing measures and deformation behaviour. Such a system then fulfils construction law requirements, e.g. those of the cable system directive.
All the OBO routing types are tested in accordance with DIN 4102 Part 12. In so doing, the mechanical resistance above fire protection ceilings is investigated and the deformation behaviour recorded. Fire test reports of the Braunschweig Materials' Testing Institute and test reports from OBO Bettermann document the resistance and deformation behaviour of the routing variants, clearly proving the applicability of the systems tested in this way.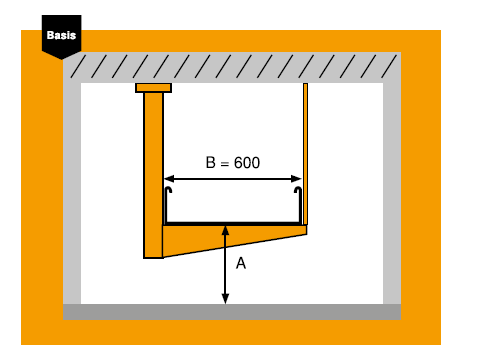 You can choose between the following when selecting the suitable system for fire-proof fastening of large cable loads:
Determine the cable volume
Determine the required space
Specify the distances to fire protection ceiling
Select the routing system
With a small amount of cables, this produces the selection of grouped supports, pressure clips and ceiling supports. Cable support systems are used for high cable loads.
Existing systems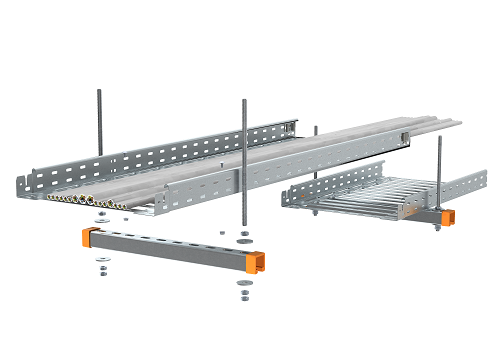 In existing systems, it is important to check used components in existing support systems: Were steel components and steel anchors used consistently? Are the cable trays screwed together? Are the support spacings comparable to those of the tested systems? If these basic requirements are fulfilled, then the existing systems can be used. It is possible that the addition of extra fastening points will be sufficient to prevent slippage or excessive deformation in the case of fire. Profile rails and threaded rods can also be additionally mounted, for example.
CAUTION: Tested false ceiling systems do not fulfil the requirements for electrical function maintenance!
Installation in underfloor systems
In Germany, the Sample System Floors Directive (M-SysBöR) applies for fire protection measures in underfloor systems. It should be regarded as a supplement to the cable systems' directive and deals primarily with the installation of underfloor systems in emergency and escape routes. However, other rooms of a building may be subject to fire protection requirements for the system floors.
System floors are primarily approved in the necessary staircases, in rooms between necessary staircases and exits to the open air, as well as in the necessary corridors and other rooms. System floors are forbidden in safety stairwells. The system floors directive distinguishes between cavity floors and raised floors. Whilst cavity floors have a poured support layer made of screed, with a maximum cavity of 200 mm, raised floors are made of prefabricated support plates on a stand structure. In most emergency and escape routes, poured floors are used. If underfloor systems are used here to supply electrical energy, these duct systems must fulfil certain requirements. Only inspection openings are permitted in these areas.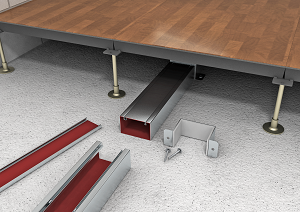 Outside the emergency and escape routes, system floors only have few fire protection requirements placed on them. The fire loads installed beneath the floor are assigned fully to the room. With raised floors of a height greater than 500 mm, the support structure must have a fire resistance period of 30 minutes. This is intended to prevent the rescue teams of the fire brigade from falling through the floor when entering the building. Raised floors, also those used for room ventilation, must be equipped with smoke detectors. These must switch off the ventilation system. To minimise the risk of fire through the electrical installation, cables are routed beneath the raised floor in fire protection ducts. If there is a cable fire, these classified ducts ensure that the fire and smoke cannot spread unimpeded in the raised floor.
Screed-covered underfloor ducts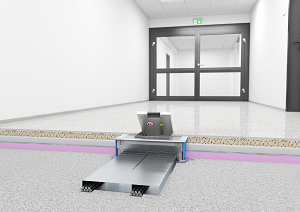 If there are screed-covered ducts in escape and rescue routes, then the covers of the inspection openings must be made of non-combustible materials and be tightly closed. Installations, e.g. sockets or data connections, are not permitted here.
Open trunking systems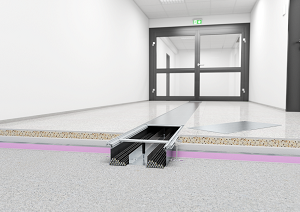 In open trunking systems, the covers must also be made of non-combustible materials, e.g. sheet steel lids, and closed off to be smoke-tight with surrounding seals. The seals can be made from foam rubber, which does not have any negative impact if there is a fire, on account of the relatively small quantity installed. Installations are also not permitted here.
Shielding with plate material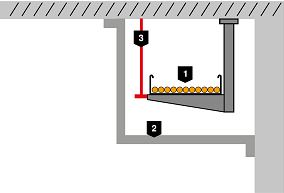 One option for fireproof encapsulation of fire loads is to shield installations with special plate material. For example, the entire cable support system is surrounded by fire protection plates. This type of mounting is commonly used in old buildings. However, there may be no mechanical load on the plates requiring the installations within the plates to be securely fastened against fire. This shielding is created at great effort by drywall engineers and insulation engineers on the construction site. These constructions must possess proof of applicability. Often, this is a general construction test report of a materials' testing institute.
Cable routing in fire protection ducts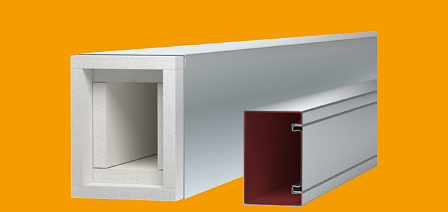 Fire protection ducts are particularly suitable for installation in escape and rescue routes. The ducts protect them against the effects of a cable fire, in which a lot of very dense, black smoke is created. The dimensions of the variants are dependent, on the one hand, on the appropriate construction, but, on the other, also on the fire resistance class they must fulfil.
Tests and proofs of application
Fire protection ducts are tested in an independent materials' testing institute. The electrical cables are burned within the duct. During the entire classified time specified by the testing standard, neither fire nor smoke may escape from the duct system. Cable exits are also tested. In this manner, it is possible to prove that the fire load is effectively encapsulated in the duct and that the fire protection duct offers secure protection of escape and rescue routes against the effects of a cable fire. In Germany, fire protection ducts for use in escape and rescue routes are classified as I ducts according to DIN 4102 Part 11. There are I30 (fire-retardant) to I120 (fire-resistant) versions.
Versions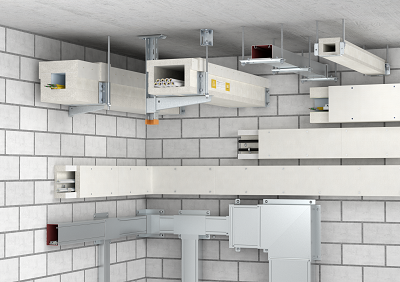 The PYROLINE® fire protection ducts are available in various versions and classification combinations:
PYROLINE® Rapid, type BSKM – Fire resistance classes I30 to I120
PYROLINE® Con D/S, types BSK(H) 09 – Fire resistance class I90 and function maintenance E30
PYROLINE® Con D, type BSK 12 – Fire resistance class I120 and function maintenance E90
PYROLINE® Fibre Optics, type BSKF – Function maintenance class E90 for fibre-optic cables
PYROLINE® Sun PV, type BSKP – Fire resistance class I30 for PV applications
All the cables are approved according to DIN 4102 Part 11 as the escape and rescue route ducts for encapsulation of the fire load. The lightweight concrete ducts BSK (H) 09 and BSK 12 were tested and approved for electrical function maintenance to DIN 4102 Part 12.
Support systems for fire protection ducts in escape and rescue routes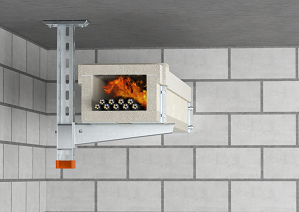 Support systems for fire protection ducts in escape and rescue routes must carry almost only the cable and duct weight. Neither the support systems nor the anchors used come into contact with the high temperatures if there is a fire. The cable fire occurs within the duct. For these reasons, the load capacity values of the "cold" state are completely sufficient. It is still wise to use fire-tested mounting systems and anchors, as they form part of safety-relevant systems.
Selection aid
When selecting the suitable fire protection duct system, the following questions must be asked first:
Should the duct protect the escape route against the effects of a cable fire?
Must the duct protect the cables of a safety-relevant electrical system against a fire?
Are they fibre optic cables, which must be routed in a manner that is protected against fire?
Are the routed cables DC cables for photovoltaic systems?
After determining the expected cable volume, you can select the appropriate duct size. Here, attention may need to be paid to the existing installation space: With this decision, the ratio of the external dimensions to the capacity is at the forefront. 90% of the fire protection ducts are used in escape and rescue routes. However, in recent years, they have increasingly been used to protect the cables against fires from the outside.
Escape and rescue route
Protection against the effects of cable fires for safe use of escape and rescue routes
Fire protection duct
Type
Class "I" [minutes]
Mounting
Direct
Suspended
PYROLINE® Sun PVPYROLINE® Sun PV
BSKP 04606
30
✓

✓

PYROLINE® Con D

BSK 09...
90
✓
x
PYROLINE® Con S
BSKH 09...
90
x

✓

PYROLINE® Con D
BSK 12...
120
✓
x
PYROLINE® Rapid
BSKM...
120
✓

✓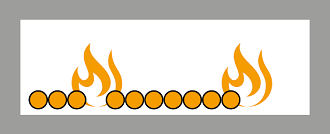 Function maintenance
Maintenance of the electrical supply to safety-relevant systems if there is a fire on the outside
Fire protection duct
Type
Class "E" [minutes]
Mounting
Direct
Suspended
PYROLINE® Con D
BSK 09...
30
✓

x

PYROLINE® Con S

BSKH 09...
30
x

✓

PYROLINE® Con D

BSK 12...

90

✓

x

PYROLINE® Fibre Optics
BSKF 0808
90
✓
x

PYROLINE® Fibre Optics

BSKHF 0808
90
x

✓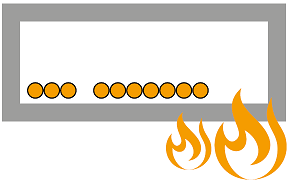 Expert knowledge
FAQ on the subject of escape routes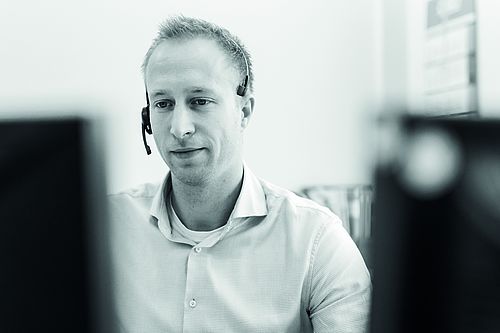 Saving people's lives is top priority. In an emergency, it is essential: Escape and rescue routes must be usable. This applies both for the escaping people and for the officers of the fire brigade. We can answer all your questions about the second protection aim.
Tutorials on the subject of escape routes
Simply explained, comprehensively protected. Our tutorials explain exactly what is important with the second protection aim.